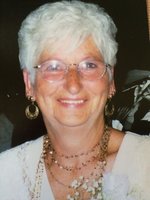 Bernice Robinson

Robinson, Bernice Irene (Coll) of Port Glasgow, passed away peacefully on Tuesday morning, the 7th of November, 2017 in her home. She was born June 4, 1940 in Highgate Ontario to parents, the late Darrell and Annie (De Hoop) Coll. Bernice was a loving mother, sister, grandmother, great-grandmother, and friend.

She was survived by her brothers and sisters, Mary Robinson, Irma Coll, George Coll, Luella Localle, and Eddie Coll, and predeceased by Joe Beuckelare and Frederick Coll Sr.

Bernice will be dearly missed as Mother of Garnet (Carrie), Mike (Pauline Dussion), and Carman Jr. (Adele Lasson), Grandmother of Kristen, Jennifer, Karl, Tennille, Courtney, Cheyenne, Colton, Christopher, Zack, Paris, Carman (3rd), and Drew, and Great-Grandmother of Madison, Noah, Max, Mathew, Hayden, Harley, Joshua, Tynan, Taylynn and Kinley.

Bernice was a strong, remarkable woman who held her family together with such a loving bond. She was extremely supportive and proud of her children and great/grandchildren. The combination of humour and care which she extended to everyone who entered her home, could not be matched!

Bernice started working for Pioneer Seeds in Ridgetown on the day the plant opened. She continued with them for over 30 years until retirement.

Visitation for Bernice will be held at the McKinlay Funeral Home, 76 Main St. East, Ridgetown, on Saturday November 11, 2017 from 2-4pm and 7-9pm. Cremation will follow. Donations in memory of Bernice may be made to the Heart and Stroke Foundation of Ontario.