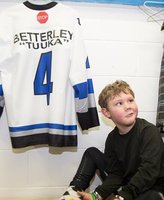 Ronny "Tuukka" Betterley
BETTERLEY: Ronny 'Tuukka' -
A resident of Greater Mull, Ronald George Betterley went to be with his Lord and Saviour on Monday, January 29, 2018. He passed away at home, surrounded by his loving family at the age of 7.
Born in Chatham, Ronny was the beloved son of Jeff and Anita (Boersma) Betterley.
Cherished and loved brother of Joe, Emmy and Dani.
Loved grandson of George and Emelly Boersma of Ridgetown and Ron and Jo-Anne Betterley of St. Thomas.
Dear nephew to Chris and Aileen Boersma, Mark and Wilma Boersma, Dave and Jeanne Boersma and Rhonda and Stan Simon.
Also missed by numerous great-aunts and uncles, cousins and friends and a special friend to Cade Merritt, Locklan Giffin, Remi Ramboer and Ryker Schaafsma.
Ronny's love for family, hockey and farming brought so many people together and made his time on Earth something we will always cherish.
He was a member of the South Kent Minor Hockey Association, and played on the 'Farm Boy Strong' Novice Tri-County League Team. Ronny attended church at First Reformed Church in Chatham and was a student at Harwich Raleigh Public School in Blenheim.
Family will receive friends at the McKinlay Funeral Home, 76 Main Street East, Ridgetown on Thursday, February 1, 2018 from 7:00 - 9:00 pm and on Friday, February 2, 2018 from 1:00 - 4:00pm and 7:00 - 9:00 pm.
A Funeral Service will be held at St. Paul's Congregational Church, 450 Park Ave West, Chatham at 1:00pm on Saturday, February 3, 2018 with Pastor Barry Wynveen officiating. Interment to follow at Evergreen Cemetery, Blenheim.
Donations made in memory of Ronny to Child Can, Children's Wish Foundation or Ronald McDonald House would be appreciated.
Online condolences may be left at www.mckinlayfuneralhome.com
McKinlay Funeral Home, 76 Main Street East, Ridgetown, 519-674-3141