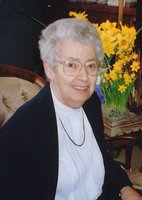 Audrey Elford
Elford, Audrey Isabelle (nee Cooper) - formerly of Palmyra and RR#2 Ridgetown, passed away at the Village on the Ridge on Sunday February 10, 2019, age 90.
Born in Harwich Township to parents the late Harry Clayton Cooper and Belle (nee Tate). Loving wife of Marcel Elford. Beloved Mother of Mary Elford of Ayr and Mark Elford of London.
Sister of the late Jim (late Ruth) Cooper. Sister-in-law the late Eunice (late Al) Harness and Norma (Wayne) Vickery of Chatham.
Aunt of Glenn (Carol) Cooper, Nancy (Peter) Laverne, Dave (Karen) Cooper, Doug (Lori) Cooper, Perry Cooper, Gayle (Gary), Janet (Bob), Dianne Coates (Wayne), and Carol Vickery.
Audrey was a teacher for with the Kent County Board of Education for many years. She was a member of the United Church Women, the Ridgetown District Agricultural Society, the Homecraft Representative for District 9 Agricultural Societies, the Fairfield Museum Board and the Liaison Member of the Ridge Landfill, canvased for the Canadian Cancer Society, enumerator for elections, taught Sunday School at the Ridge Church, and a member of the Ridgetown Senior Centre where she participated in many activities.
Visitation will be held at the McKinlay Funeral Home, 76 Main St. East, Ridgetown on Tuesday February 12, 2019 from 2-5pm. Visitation will continue on Wednesday February 13 at 10am until the time of the Funeral Service will held at 11am. Burial to follow in the Trinity Anglican Cemetery, Morpeth.
Donations in memory of Audrey may be made to the Ridge Community Church or Sleeping Children Around the World. Online condolences may be left at www.mckinlayfuneralhome.com.
McKinlay Funeral Home, 76 Main St. East, Ridgetown, Ontario, 519-674-3141