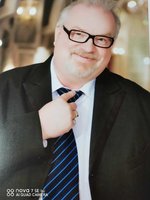 Ralph Edwin Wright
Wright, Ralph Edwin Jr. (C.E.T., CSWP) April 6th, 1958 - September 30th, 2020
Ralph Wright of Ridgetown/Suzhou, China passed away suddenly at Windsor Regional Hospital, Met Campus on September 30, 2020.
Ralph was the eldest child of the late Ralph Sr. (1984) and Elva (Ecker) (2008).
Ralph is survived by his wife, best friend and soulmate Yaping and their son Yangyang and daughter in law Zhaung Lei. Siblings Dave, Paul, Tom (Julia), Gerald and Laura (Gary).
Ralph will also be missed by his nephews Ryan and Chance Huff, Skylar and Sheldon Wright, Mike Aers and his great nieces Graciee Young and Makenna Huff.
Ralph worked many years as a Design Engineer and worked very hard to obtain his CSWP and C.E.T. designation. On a much needed vacation to visit a work colleague he met the woman who would become his wife. The lifelong bachelor was won over instantly by the petite nurse who stole his heart. After conversing daily and trips abroad to see one another the man who wanted to come off as the tough guy and workaholic finally got on bended knee and proposed to the woman who captured his heart late in life. Ralph and Yaping would have celebrated their 7th wedding anniversary on October 2nd 2020.
Cremation has taken place with a private family gathering at a later date.
Anyone wishing to make a donation to the Canadian Diabetes Association or the Heart and Stroke Foundation would be appreciated.
Online donations may be made at www.mckinlayfuneralhome.com
76 Main St. Ridgetown,ON, N0P2C0, 519-674-3141.