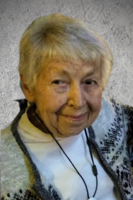 Pauline Shaw
Pauline peacefully passed to that great kitchen in the sky early on the morning of November 29th, 2020 in her 92nd year.
Born January 4th, 1929 in Port Elgin to Edna (vocalist) and Edgar Stowe (Blacksmith), she and sister Isabel lead a formative if not easy life on the shores of Huron playing everything, picking strawberries and plucking chickens. Graduating in 1952 from the first dietetics four-year Bachelor of Food Sciences program from University of Guelph, Pauline then worked at Vineland Station Experimental Lab in microbiology researching wine production for Jordan Wines. Moving to Toronto she worked at Sick Kids in hematology for leukemia patients. Having met Helen Shaw (McPherson) at the registration lineup at U of G, Helen the matchmaker had convinced Pauline to join her on a trip to Torontoto meet her brother Gordon on a blind date leading to a lifelong marriage of love, caring, cooking, curling and community service in Ridgetown from 1956 onward.
A relentless creature of the kitchen, Pauline created 1000's of masterful meals for over 60 years serving family, friends, Presbyterians, Kiwanis and other fortunate food lovers.
Son Duff's death in 1994 was tragic, but even during this most difficult time, she was strong, steadfast and stoic for family needing support and strength. She and Gordon were eternally grateful to Barb and Chic Gulino who they lived with in California for many months during Duff's illness and allowing them to spend treasured time with Erin, Kristi and Duff.
Pauline was an insatiable reader with incurable curiosity that made her an engaging conversationalist and great company. She always had an interested and sympathetic ear while finding time to stay current with her friends' day to day events and challenges. Her memories of events and details days or decades before were truly amazing helping her maintain connections through her vivid recollections. She was an active member of the IODE, Mt. Zion Presbyterian, Ridgetown Golf and Curling Club and many other community initiatives.
Pauline joins previously deceased Gordon, Duff, Kristi, Harry, Isabel, David, Bill, Edna, Neil, Ruth, John, Jonathon, Marg, Feag, Ruth, Jim, Ede, Jim Kathy, Al, Carole and Chic among others. Survived by Val & Hal, grandchildren, Kelly, Steven & Erin. And Helen, Mary, Steve, William, Julia, John, Rob, Jennifer, Marc, Ted, Andrew, Emily, Neil, Eric, Stephanie, Lyra, Hilary, Ward, Naomi, Susan, Cindy, Paul, Sue, Bob and many others.
Pauline's story can be seen at https://vimeo.com/185687700 compliments of Laura Bowker.
A Private Memorial Service will be held on Wednesday, December 2nd 2020 at 1pm, which will be livestreamed at www.mckinlayfuneralhome.com.
Donations to the new Ridgetown Adult Centre, Mt. Zion Presbyterian, IODE or Chatham-Kent Health Alliance Foundation are welcome.