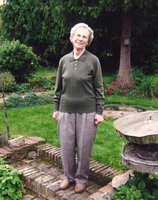 Irene May Hart
Irene May (Lindsey) Hart-
April 18,1920 – December 4th, 2020
Irene was the only child of Jack and Ethel (Walby) Lindsey and was born in Meldreth, England.
She is predeceased by her husband of 55 years, George (1995).
Irene is survived by her daughter Kay (James), her granddaughter Lisa (Chris), great grandson Barryd and great granddaughter Rowan.
Also survived by her nieces and nephews Sybil (Tony), Marjorie (Kenneth), Rae, Sylvia (late Nigel), Ted (Carol), Lesley (Alan), Joan (Mohammed), and predeceased by the late Anthony (Anne), and the late Celia (David).
Survived by her dear friend and career of 5 years, Violet (Ross)
Predeceased by her husband's siblings Jim, Frank, Grace, Madge, Dick, Alban and their spouses.
Irene saw many changes in her 100 years. e.g. the first 3 cars in the village arrived when she was a teenager, one of those being her father's, which she learned to drive, no test required!
Let perpetual light shine upon her & may her soul and the souls of all the faithful departed, by the mercy of God, rest in peace.
In lieu of flowers please remember Irene through St. Mary's, Little Wymondley or your favourite charity.