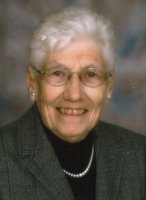 Audrey Wickware Higginbotham
Higginbotham: Audrey Joan (nee MacDonald) -
A resident of Ridgetown, Audrey Higginbotham peacefully passed away at the Village on the Ridge on May 22, 2021 at the age of 89.
Born in Buckingham, Quebec, Audrey was the daughter of the late Charles and Ella (nee Robinson) MacDonald.
Beloved wife of the late Jack Wickware and the late John Higginbotham.
Loving mother to David and Martha (nee McKinlay) Wickware of Rondeau.
Grandma to Meghan Wickware of London England, Matthew Wickware (Eleasa Feldman) of Trento Italy, and Ryan Wickware of Toronto, ON.
Sister to the late Elton MacDonald.
Audrey was a faithful member of the Church of the Advent and the Grace Church in Rondeau Park as well as an active IODE member.
Audrey will be remembered as the stockcar racer that bumped dad's old girlfriend off the track. The fisherman that yanked the lure out of the muskies mouth cause she said it was too big. The hunter that was a crackshot and wore the label Auntie Oakley. Always a strong curling force with her 60+ years experience. She took up golfing late but was the queen of the one putt. But most of all a GREAT MOM, and a single mom for a lot of it! Many of David's friends will remember rides to Scout Camps, water skiing, drivin movies, etc... She was always there to help NO judgement. What a gal!!
As a Grandma, she was an independent and strong woman with an inspiring presence. An inherently self-reliant mom that was immensely proud of her only son and his family. Wherever she is now she is persistently making her own way.
Special thank you to Dr. Martha Clendenning and the Village on the Ridge staff for the exceptional care for Audrey over the past few years.

Cremation has taken place and a private family burial will take place at Greenwood Cemetery.
Donations made in memory of Audrey to the IODE Canada would be appreciated.
Online condolences may be left at www.mckinlayfuneralhome.com
McKinlay Funeral Home, 76 Main Street East, Ridgetown, 519-674-3141