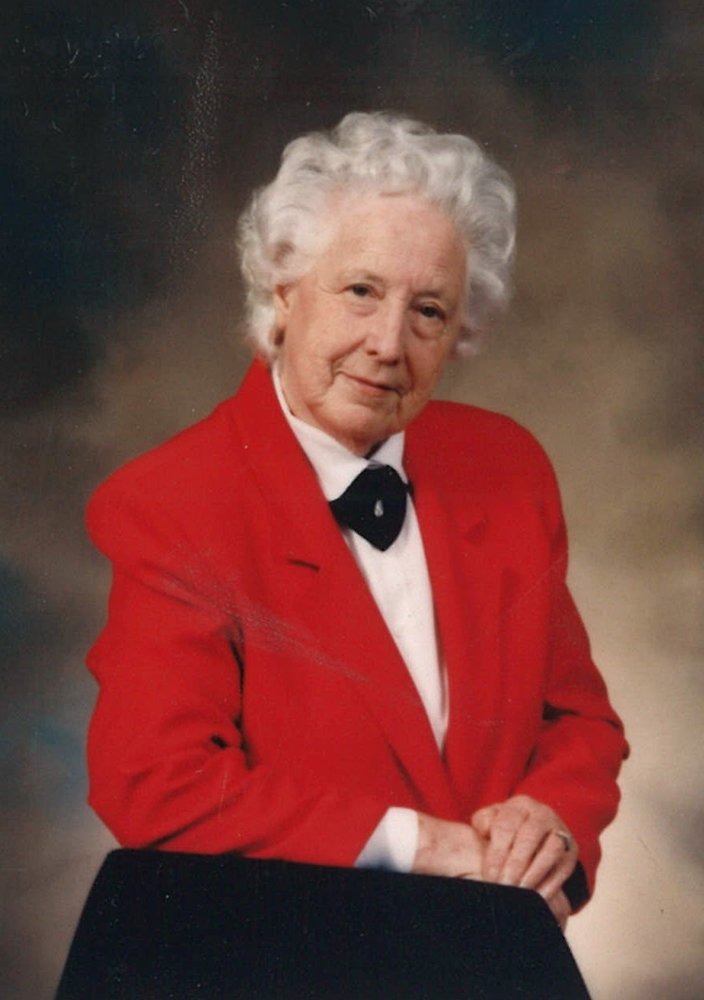 In Memory of
Fern Hawthorne
1912 - 2017
Obituary of Fern Hawthorne
Hawthorne, Fern Irene - Long-time Ridgetown resident and retired public school teacher Fern Hawthorne passed away on Wednesday August 9, 2017 in her 106th year. Fern was born on the family farm outside of Milverton, Ontario in Perth County in 1912 to parents the late John and Euphemia (nee Davis) Roulston. She married her husband the late Thomas Howard Hawthorne in 1934. Fern is the precious mother of John and Shirley Hawthorne of Dresden and Jim and Marjorie Hawthorne of Ridgetown. She was very well loved by her grandchildren Dave Hawthorne of London, Heather Hawthorne of Kingston, Jim Jr. (Colleen) Hawthorne of Ridgetown, Michael (Mary Ann) Hawthorne of Ridgetown, Mark (Leslie Meredeth) Hawthorne of London, and Rob (Marlene Morris) Hawthorne of Ridgetown. Adored great-grandmother of Tyler (Elisabeth), Kara, Hayley, Kristy, Ryan, Grace, Austin and Sydney. Great-Great grandmother of Morgan.
Predeceased by her siblings Rita Bell, Ralph Roulston, Robert Roulston, Tom Roulston, and George Roulston.
Sister-in-law of Jackie Schoenhals and Ruth Roulston. Will be missed by many nieces and nephews.
Fern has seen and experienced some of the most significant moments of the last century - the end of World War I, Spanish influenza, the depression, World War II, the economic boom and prosperity of the 1950s, through the rock and roll era, and into today.
One of her early memories is at age six leading the local doctor through her parents' home, going room to room with a coal oil lamp to check each of her family members infected by the 1918 influenza.
In her generation she's gone from coal oil lamps to electricity, from slow travel to fast cars; from print and radio as the only way to communicate, to telephones, t.v.'s and computers. "I think one of the most significant changes I've seen is in the mode of transportation," said Fern. "When I was a child we travelled by horse and buggy. My father was one of the first in our neighbourhood to buy a car. I remember all of us climbing on the running board and laughing. It was so new. It used to take so long to travel from one place to another and now you can go anywhere in the world in a matter of hours."
Fern's father chose her profession. When asked, he told a visiting relative that she would be a teacher. "I wasn't consulted in the decision, but it turned out to be a wonderful career," said Fern, "and a wonderful opportunity to help a lot of children." She taught for 36 years starting in the tiny one-room school house in Gad's Hill in Perth County. She was 17, and had just graduated from the Stratford Normal School, one of four schools built in Ontario in the early 1900s to train teachers to educate children in rural communities. "If you look at the class photo for that year you'll see that I wasn't much older than the kids I was teaching. You can hardly tell which one is the teacher."
Fern taught mostly grade one classes in Blenheim and in Ridgetown. After she retired in 1976 she travelled the world from Russia, to China, Greece, Denmark, British Isles, Europe, the Caribbean islands and most of Canada and the United States.

An avid reader since she was a child, Fern can recite poetry she memorized in public school more than 95 years ago. Give her a line and she'll finish the poem for you.
A Private Family Graveside Service will be held at Greenwood Cemetery at a later date. Donations in memory of Fern may be made to the Village on the Ridge Residents Council or the Ridgetown Salvation Army. Online condolences may be left at www.mckinlayfuneralhome.com .
McKinlay Funeral Home, 76 Main St. E., Ridgetown
519-674-3141
Share Your Memory of
Fern